Eradicating Rural Poverty for the Maonan in China
The Huanjiang Maonan Autonomous County lies in Guanxi in southern China. A majority of China's Maonan ethnic group live here in rural villages. Once considered one of China's most impoverished places, the poverty rate has now dropped to under 2% thanks to efforts by the Chinese Academy of Sciences (CAS). By using advanced farming techniques and relocating people to more arable areas, CAS has provided a model for eradicating rural poverty in China.
CAS Goals
Just over 100,000 Maonan live in China, most in small rural villages. About 70,000 of them live in Huanjiang. In the 1990s, Maonan farmers grew mostly corn and sweet potatoes, barely scraping by. The Chinese government identified Huanjiang as one of the most impoverished counties in China.
Maonan villages were located in mountainous, rocky regions known as karst landscapes. These areas are prone to desertification and are unsuitable for farming. CAS started the Kenfu Huanjiang Ecological Migration Pilot Zone in 1996. Its two goals were to relocate people to new villages in areas more suitable for agriculture and to improve the livelihoods of those that refused to relocate.
New Farming Techniques and Solutions
CAS introduced advanced farming techniques that better suit the area. An important change was the shift from farming to livestock. Huanjiang is highly flood-prone so CAS helped plant various grasses that can support animals. Zeng Fuping, a researcher with CAS who has been in Huanjiang since 1994, remarked that "the farmers were unsure initially and they questioned growing something that they could not eat." However, the results speak for themselves. Income has increased tenfold since the introduction of 200 cattle into the region in 2001. Not only do the grasses support livestock but they also help prevent soil erosion. They have helped prevent widespread desertification, which is a common problem in karst landscapes. This serves as a model for maintaining arable land in karst areas across China.
Eradicating Rural Poverty
The speed of poverty reduction in Huanjiang has been staggering. In 1996, the average resident only earned the equivalent of $45 per year. That number rose to $835 in 2012 and $1600 in 2019.
In 2015, more than 14,000 Maonan people in Huanjiang lived below the Chinese poverty line of $345 per year. This accounted for around 22% of all Maonan peoples living in the county. By 2019, less than 1.5% of Maonan lived in poverty, amounting to 548 people. Due to the efforts of CAS, Huanjiang is no longer an area of extreme poverty in China.
In all of Guanxi, CAS has helped facilitate 400,000 people with relocation to new villages. This includes a majority of the Maonan community. Poverty percentages in Huanjiang have dropped to single digits. Livestock farming has reduced soil erosion and given locals much more disposable income. UNESCO dubbed this strategy the "Kenfu Model" and it is an important example of eradicating rural poverty in China.
– Adam Jancsek
Photo: Flickr
The post Eradicating Rural Poverty for the Maonan in China appeared first on The Borgen Project.
How Mexican Avocados Are Reducing Poverty
Mexico is the second-largest nation in Latin America with over 130 million residents. Mexico exports an abundance of fruits and vegetables but its number one crop export is the avocado. The fruit is rich in nutrients and has become a staple food for many around the globe. Not too long ago, avocados were not the number one crop being exported from Mexico. Today, the economic impact of Mexican avocados has helped many people escape poverty.
Poverty in Mexico
According to the World Bank, almost 42% of Mexicans live in poverty, with the rural population being the most impacted. Moreover, around 62% of Mexican children make it to high school and only 45% graduate. To reduce poverty, Mexico has increased its social spending to help those in need. The Mexican government has implemented programs such as cash transfers, farmland subsidies, scholarships and subsidized medicine. These programs are put into place in the hope of diminishing poverty.
The Mexican state of Michoacan is one of the poorest in the country. A whole 46% of people in the state lived in poverty in 2018.  However, Michoacan is rich in agriculture. In fact, around 20% of the land is used for agriculture and the industry employs 34% of the population. Moreover, Michoacan's most popular crop is the avocado.
The Avocado Industry Boom
Michoacan is the top producer of avocados not only for Mexico but for the entire world. The demand for avocados has created an economic boom in the country. Mexican avocados make up 82% of all U.S. avocado sales. Furthermore, Mexican avocados have created more than 30,000 U.S. jobs and have an economic output of $6.5 billion. Even during the COVID-19 pandemic, avocado sales continued to thrive.
North American Free Trade Agreement( NAFTA) is a trade agreement between the United States, Canada and Mexico that was implemented in 1994. The agreement loosened tariffs and rules on a variety of produce, allowing them to flow more freely between countries. Today, this has allowed for the ease of export of Mexican avocados into the U.S.
The company Avocados From Mexico (AFM) has sold 2.1 billion pounds of avocados in 2020 and expects 2.3 billion pounds to be sold in 2021. Mexican avocados have become such a huge economic success that they are called "green gold" by the locals.
Impact of Mexican Avocados
The increased demand for Mexican avocados has led to less migration of Mexicans into the United States. The competitive wages avocado farming has produced has meant many more Mexicans are willing to stay in their home country. The popularity of avocados has led to the creation of thousands of jobs in Mexico. Due to this fact, families do not feel the need to migrate to the United States for employment.
The increased demand for Mexican avocados has led to employment opportunities, less migration and closer economic ties to the United States. The Mexican avocado industry is playing a part in reducing global poverty.
– Andy Calderon Lanza
Photo: Flickr
The post How Mexican Avocados Are Reducing Poverty appeared first on The Borgen Project.
Mobile Technology in Kenya Helps Farmers
Around 75% of working Kenyans make their living through agriculture. Being the largest industry in the country, the ability of Kenyan farmers to produce crops is essential for both economic and food security reasons. Agriculture provides food and money to the many farmers and their communities. This vital sector is in danger, with unpredictable climate conditions and the emergence of pests that can decimate entire crops. Artificial intelligence (AI) and mobile smartphones are new resources being used to save the produce of these farmers and the livelihoods of millions of Kenyans. Mobile technology in Kenya has great potential to increase the production of the valuable agricultural sector, keeping millions above the poverty line.
Cellphone and Internet Acess in Kenya
The mobile phone industry has been steadily growing in Kenya. According to a survey of 577 farming households, 98% of respondents own a mobile phone. The increasing affordability of cellphones and internet access in the country has opened the door to bring new forms of aid to the farmers who produce more than a third of the country's GDP.
Project FARM
Mobile apps powered by machine learning have been created to help farmers all over the world make as much from their crops as they can. In Kenya, which has been experiencing unpredictable levels of rainfall each season, a mobile app is working to consolidate data to help determine the best course of action for the farmers during changing weather conditions. Project FARM (Financial and Agricultural Recommendation Models) is a program designed to take into account weather, temperature, strains of crops and success rates from other farms in order to determine what actions will produce the largest yield. FARM sends notifications to farmers via text so that they can be readily alerted of any danger as heavy rain can occur suddenly and damage entire fields. The program can be operated from the cellphones of farmers so the resources can be easily accessed and implemented. After just one year using FARM, on average, a single farmer increased their yield from six 90kg bags of maize to nine bags.
AI Apps as an Educational Resource
Programs like this also work in conjunction with resources that seek to educate farmers about ways to sell their products as well as how to maximize efficiency and yield. These resources are free and greatly help those who could not afford to hire an agronomist to inspect their farm. This combination helps farmers produce more and know how to manage more product so that they can sell them in the most efficient way possible.
Apps for Crop Pest Control
AI also helps farmers by giving them valuable information about crop-decimating pests. Pests pose a grave threat to African farms and it is estimated that each year around 50% of all crops in Africa are lost to pests and diseases. The Fall Armyworm (FAW) is a type of caterpillar that has recently plagued East Africa and is capable of ruining huge amounts of produce. The Farmers Companion App is a program powered by AI which is capable of determining which crops are infested and the stage of the lifecycle of the pest. This will allow farmers to take the best possible steps to contain the spread. Another app, PlantVillage Nuru, is capable of diagnosing crop diseases without an internet connection.
Mobile Technology in Kenya Helps Agriculture
Mobile technology in Kenya is an important step to help farmers deal with the evolving problems of the 21st century. With agriculture being such an important industry in Kenya and with so much of the produce at risk each year, it is vital for the economy and wellbeing of the country that crops are protected and that yields are produced at an effective rate. These types of developments in AI and mobile technologies have the potential to significantly help the livelihoods of millions of farmers in Kenya and other countries too.
– Jackson Bramhall
Photo: Flickr
The post Mobile Technology in Kenya Helps Farmers appeared first on The Borgen Project.
Pakistan and India: The Battle for Rice Exports
Pakistan and India are fighting a rice war, as India is attempting to gain exclusive branding rights to export basmati rice to the EU. India's, "trademark of geographic indication" for basmati rice has been approved by the EU and Pakistan has three months to respond to this claim or they could be boxed out from exporting basmati rice to the EU. Further implications of expanding geographic indication could compromise other markets for Pakistan, yet its response so far has been slow and inconsistent. The EU's decision will influence each country's economy and with hundreds of millions of impoverished people between the two, there is much at stake. Rice exports are crucial to both India and Pakistan's economies.
The Value of Rice in Pakistan
The basmati rice industry is one that Pakistan heavily contributes to and relies on. Pakistan contributes to 35% of global basmati rice exports and its trade to the EU have grown from 120,000 tons to 300,000 tons since 2017.  A whole 40% of Pakistan's workers are involved in agriculture, with rice accounting for 20% of agricultural land.
The Value of Rice in India
India exported 4.5 million tons of Basmati rice between 2019 and 2020, which made up 65% of global basmati rice exports. India has increased rice exports significantly from 2017 when they exported four million tons of rice. Around three-fifths of India's basmati rice exports go to Saudi Arabia, Iraq and Iran.
Despite rice production increasing due to new practices, rice yields in both Pakistan and India are lower than the global average. Growing challenges such as drastic climate change and inclement weather can negatively influence annual rice production. Experts conclude that improving irrigation facilities and increasing the use of new technology will allow rice yields to expand.
Population Growth & Economic Contraction
Already the fifth most populous nation in the world, Pakistan is projected to grow from 220 million to 345 million by 2045. As its population continues to grow, its economy must grow at least 7% to prevent unemployment. However, in 2019, the economy contracted from 5.5% to 1.9% and this shrinkage was further exacerbated by the COVID-19 crisis. Unemployment has increased each year since 2014 and currently sits between 4% and 5%. It is imperative that Pakistan jumpstart its economy or unemployment and poverty will spread.
Poverty in South Asia
Pakistan made great strides in reducing poverty in the early 2000s but has since stalled. By 2015, roughly one in four people, or 50 million Pakistanis, lived under the poverty line, with few opportunities to turn that around.
India also has few opportunities for the poor to improve their lives as it placed 76 out of 82 countries in terms of social mobility. The lack of social mobility ensures that most people who are born poor will die poor, with minimal chances to jump to a higher social class. India suffers from severe social inequality and lack of growth in rural areas. A whole 364 million out of 1.3 billion, or 28% of the world's poor, live in India.
However, globalization has allowed India to bring 270 million people out of poverty between 2005 and 2015. Consequently, since 1990, life expectancy has increased by 11 years, schooling years have increased by three years and India has increased its human development index to above the medium average.
Malnutrition Causes Infant Mortality
Pakistan has an alarmingly high infant mortality rate of 55 per 1000, which is twice that of India's. This is caused by a multitude of factors, most importantly being the malnutrition of mothers and their infants. Although wheat and rice are produced in abundant quantities, one out of five Pakistanis and 44% of children under 5 suffer from malnutrition. The problem is not whether food is available but it is that food is not accessible for the poor.
Rice as a Key Export
In Pakistan, rice provides value both nutritionally and economically. Rice accounts for 1.4% of the GDP, and the traditional basmati rice makes up 0.6% of the GDP. However, most rice is sold as an export and is not used to feed hungry mouths domestically. In 2019, Pakistan exported $2.17 billion worth of rice, of which 790 million was basmati, a 25% increase from 2018.
A whole 90% of the rice grown in India is consumed domestically. Boasting the second-largest population in the world of 1.3 billion people, India accounts for 22% of global rice production but has many more people to feed than Pakistan. India is projected to produce 120 million tons of rice between 2020 and 2021 and to export 12 million tons.
Consequences of the Rice War
Basmati rice exports generate massive profits for each country. If one country were to gain an advantage over the market, it would create enormous value for the winner and dire consequences for the loser. The winner would stand to gain economically and competitively as they could increase production and profits. Additionally, increased demand for agricultural workers and production in rural areas would create revenue in historically impoverished areas.
– Adrian Rufo
Photo: Flickr
The post Pakistan and India: The Battle for Rice Exports appeared first on The Borgen Project.
New Farming Technology to End Agricultural Poverty
The most common occupations in impoverished nations are in the agricultural sector. Inventors and mechanics around the world have developed new farming technology that will create sustainable agriculture, thereby saving the jobs of millions of subsistence farmers. This will bring an end to global poverty as impoverished communities will be able to increase their income and contribute to local and national economies.
Building Sustainable Agricultures
Agriculture involves cultivating soil to grow crops and rearing animals for the provision of food, wool and other products. These are some of the most vital commodities in terms of creating profits and the sustainability of mankind.
Many believe farming is a simple profession due to the alleged sustainability of agriculture. This is not the case because the farmlands face many challenges that make them unsustainable. Our food supply relies on the extraction of natural resources, and the methods behind this are what lead to soil erosion. These methods include the utilization of fertilizers and the tilling of the soil.
The implementation of fertilizer is meant to eradicate harmful weeds, insects and fungi that will inevitably grow and spread on all grounds and ruin all the farmers' hard work. The fertilizer chemicals are known to be the cause of dead zones. These are collapsed aquatic ecosystems that are created when chemical runoff goes to the ocean and creates an excess of nutrients. The nutrients create algae that generate low oxygen and this harms aquatic life. The tilling of the soil puts more oxygen and nutrients that deplete organic matter. This creates a loose soil structure that increases soil erosion and when water washes away the soil the lands are unfit for agriculture.
This unsustainability is why farmers need new technology to move forward.
Drone Technology
Drone technology is one of the solutions for farmers to enhance resource management when the demands of food production rise. These unmanned aerial vehicles use vigorous data analytics to receive successful cognizance in the crops by using GPS coordination. The drones scan large areas of farmland and the scanning determines the proper seeding instructions by taking into account the elevation, slope and improved crop models.
Data collected by the drones can determine the fertility of crops, permitting farmers to reduce wastage and plan irrigation systems. In the event of a natural disaster, the drones can assess the damage in ways that cannot be done manually. This technology's effectiveness has been proven when drone technology reduced 52% of herbicide use on a soybean farm in Brazil.
The senseFly eBee X maps 1,200 acres of fields with precise images that are analyzed to find weed infestations and thresholds in a matter of hours. The detailed results decide the amount of herbicide needed, thereby preventing overuse. Drone technology is only one of the automatic farming technologies.
AutoCarts
AutoCarts have become the next generation of farmers. Labor shortages that contribute to global poverty can be combated with autonomous farming technology. Operating the tractors and grain carts can be challenging when the help available is the inexperienced and elderly. This is where the AutoCart comes in.
When it is time to empty the grain bin, the self-sufficient tractor is called from an app on a smart device. The tractor controller is reached through a cellular signal with a range of a 900 megahertz radio. Once the tractor comes in range it is placed in "sync mode" with a wifi signal so that the tractor and grain cart can copy the combine's field maneuvers. After the combine dumps, the tractor and grain cart returns to the origin point.
The technology is meant to autonomously unload while the operator continues to have control. AutoCarts are meant to have a simple function with a switch that toggles between manual and autonomous and the complete kit will have safety systems, equipment hardware and installation instructions.
The new farming technology will make labor simpler, enabling the world's poor to lift themselves out of poverty. Impoverished nations worldwide are left with no other occupation other than farming and with the limited resources they have, they will need all the help they can get. Traditional farming has its drawbacks with the herbicides harming the environment and the soil becoming unsuitable for farm use. Technological solutions like the GPS-guided drones and automated tractors address these drawbacks by analyzing the acres for genuine planting areas and aiding farmers with hard labor. Through the advancement of new farming technology, agricultural poverty and challenges can be overcome.
– Shalman Ahmed
Photo: Flickr
The post New Farming Technology to End Agricultural Poverty appeared first on The Borgen Project.
Bt Cotton Fights Poverty in Pakistan
The Islamic Republic of Pakistan was founded in 1947 following the partition of the British India Empire. It borders India to the East, Afghanistan and Iran to the West, China to the North, and the Arabian Sea to the South. Pakistan is the fifth largest country in the world in terms of population. Poverty in Pakistan has long been an issue, but significant progress has been made in the 21st century. Between 2001 and 2015, the poverty rate fell
from 64.3 to 24.3%
.
Agriculture's Success
Agriculture is one of the largest sectors of the Pakistani economy and accounted for
26% of GDP in 2015
. Pakistan has historically made use of GMOs in order to successfully boost agricultural production. During the 1960s, the Green Revolution in Pakistan saw increased public funding agricultural development transform wheat production. In recent years, the emergence and widespread use of Bt cotton has demonstrated a clear ability to impact the effort to reduce poverty in Pakistan
Bt cotton and Poverty
Cotton is currently one of the major crops being grown in Pakistan. The largest threat to its cultivation is its susceptibility to pests. Pesticides have been traditionally relied upon to combat pests and protect yields. However, the emergence of GMOs in recent years presents another potential tool. Bt cotton is a genetically modified strain of cotton which has seen very widespread use in Pakistan. In 2008, before the requisite cotton technology was even commercially available in the country, an estimated
60% of cotton farmers
were planting the strain. Seeds were available mainly as smuggled goods from India. Results produced by this early use were generally positive and indicated the potential that Bt cotton had as a tool to be used to reduce poverty in Pakistan. In 2008, estimates indicated that cotton yields were higher by 50 kilograms per acre for farmers who adopted Bt cotton. The modified strain was also shown to significantly increase household income among adopters.
Positive Effects of Bt cotton
The use of Bt cotton has continued and increased in the years since this early adoption. As more and more farmers have adopted this cotton as an alternative to continental cotton strains, the positive effects have remained consistent. Between 2015 and 2017, household income and profit were both shown to be higher among adopters of Bt cotton, and it still
increases from year to year
. 
The positive effects of the cotton have demonstrated the potential for the reduction of poverty in Pakistan. Currently, small farmers benefit the most from the adoption of Bt cotton, relative to medium and large ones.
Still, small farmers face the largest barriers to adoption. They often lack the capital needed to adopt and implement new farming techniques and technologies. Increasing the availability of Bt cotton to those farmers who would most benefit from its adoption could prove a significant step in the bid to reduce poverty in Pakistan.
– Haroun Siddiqui
Photo: Flickr
The post Bt Cotton Fights Poverty in Pakistan appeared first on The Borgen Project.
How Livestock Can Alleviate Poverty
Throughout the world, 689 million people are estimated to be living in conditions of poverty and surviving on $1.90 a day or less. Of these numbers, around 70% of those impoverished depend on livestock for employment, income and food security. The ability for families to stay afloat, send their kids to school, put food on the table and sustain themselves, depends on the health of their herds. Livestock can alleviate poverty by providing several benefits.
Oxfam: Livestock for Poverty Reduction
Oxfam, a nonprofit organization dedicated to fighting poverty, donates money, food and livestock to struggling communities for long-term success. Oxfam works with local organizations and coalitions in 70 countries both before and after crises occur to treat both the symptoms of systemic inequality as well as the systems themselves. Oxfam advocates for the rights of the impoverished and those facing oppression by challenging government leaders to do more for their constituency.
Feed the Future Campaign
Oxfam has worked with the U.S. food security initiative, Feed the Future, to help farmers in countries like Ghana, Guatemala, Ethiopia, Haiti, Senegal and Tanzania. Through intense research and direct communication with local communities, Oxfam has strengthened strategies for the success of female farmers, growth in the agriculture sector and maternal and child nutrition. Oxfam stresses the importance of aiding small scale farmers to end the cyclical nature of poverty and food insecurity. This initiative includes providing access to opportunities and resources that some families do not have, holding accountable the governments and businesses for the harmful policies that affect farmers and ensuring a positive relationship with local groups.
The Impact of Livestock
Part of Oxfam's mission is to set communities up for success in the long-term by providing them with resources and tools to maintain these resources. Oxfam does not just provide livestock such as goats and sheep, but it provides farmers with resources and training for herds to be healthy and successful. Growth in agriculture directly leads to economic security and growth. It profits the entire community as it lowers the costs of food, creates wealth for producers and creates opportunities for other economic areas to flourish as more consumables become accessible. The work Oxfam does in bringing livestock to impoverished communities alleviates poverty and produces greater economic growth and opportunity. Livestock can alleviate poverty as it takes on laborious duties that lessen the strain on families. Livestock also produces and becomes a source of food and increases the flow of income and ability to work on other aspects of life.
Nyalit, a woman in South Sudan, was given two goats from Oxfam and has seen her life improve tremendously since the contribution. The goats provide a source of food and income, producing milk. The goats have also reproduced, allowing the farm to grow.
Livestock Programs Reduce Poverty
Oxfam has made considerable contributions to lessen the impact of poverty throughout the world and continues to do so with its programs. Its work is evidence that livestock can alleviate poverty and expand the socio-economic opportunities of the farmers. The organization has empowered female farmers, provided food security for mothers and children in developing areas and encouraged growth in the agricultural sector.
– Lizzy Herestofa
Photo: Flickr
The post How Livestock Can Alleviate Poverty appeared first on The Borgen Project.
How Coffee in Vietnam Can Battle Poverty
The comforting routine of having a rich cup of coffee in the morning is a habit shared by numerous people around the world. Unique flavors and distinctive brews come from various countries such as Brazil, Colombia and Indonesia. Vietnam, once an underdog in the coffee industry, has now become one of the top coffee exporters in the world. As a new major contender in the international coffee trade, Vietnam faces new economic opportunities moving forward. Importantly, coffee in Vietnam has the potential for reducing poverty.
How Coffee in Vietnam Took Root
French colonists introduced coffee in Vietnam in 1857. The central highlands region, Buon Ma Thuot, had ideal growing conditions for the crop. Accordingly, it became a target region for coffee cultivation. Growing coffee in Vietnam proved to be difficult yet promising. The government encouraged citizen migration to rural regions such as Buon Ma Thot, which gained a 265% increase in the overall population. By the end of 2000, over 4 million people settled in this area, which created a new and expansive workforce for the coffee industry. This new workforce, combined with the government's coffee-growing program and the increased demand for coffee worldwide, created a boom in Vietnam's economy.
In the span of just two decades, Vietnam became one of the most competitive coffee producers in the world. It now ranks as the 2nd largest coffee exporter behind Brazil. Starting with 8,400 tons of coffee produced in 1980, production numbers skyrocketed to 900,000 by 2000. Coffee production has contributed to Vietnam's GDP increasing by 7.7% within the past few years. Unexpectedly, coffee became an important player in the Vietnamese economy.
Challenges Brewing Within the Industry
Two main types of coffee beans, Robusta and Arabica, compose most of the beans exported by countries worldwide. Currently, 95% of Vietnamese coffee exports are Robusta, known as lower quality beans. As a result, the success of Robusta in the market depends on fluctuations in global demand. Vietnam's coffee industry must account for this variable by improving the flavor and quality of beans harvested in Buon Ma Thuot to remain competitive in the worldwide market.
But remaining competitive in the market is no easy task. Unlike globally known brands such as 100% Colombian coffee, Vietnam still needs to establish its trademark in the international market. Currently, processed coffee accounts for only 7% of Vietnam's exports. Increasing coffee processing by establishing joint ventures with known retailers and roasters could create new opportunities for the industry. If Vietnamese brands become household names, Vietnamese coffee can garner substantially greater profit margins in the global market.
In addition to increasing coffee quality and ameliorating marketing tactics, Vietnam's farming strategies must improve. Though Robusta is typically more resilient to environmental stressors, such as hot climates, pests and disease, this coffee crop is still susceptible to the dangers of unsustainable farming practices. Farming strategies that rely on intensive irrigation and the overuse of fertilizers can exhaust soil quality.
To combat land degradation, Vietnam's government collaborates with global companies such as Kraft Foods and Nestlé. It also works with conservation organizations such as the 4C Association, Rainforest Alliance and Fairtrade Foundation. Together, they educate farmers, improve farming practices and establish an agricultural standard. This works to effectively and sustainably increase the production of coffee in Vietnam.
Solving Poverty One Cup at a Time
The significant surge in coffee production in Vietnam also means countless farmers and citizens gain a newfound source of income. With only 6% of total coffee production used domestically, coffee has become Vietnam's key export. Coffee production provides a livelihood for around 2.6 million people. Importantly, 600,000 of these individuals are small-scale farmers, many of whom belong to underrepresented social groups.
This emerging industry has allowed Vietnam's economy to vastly improve within a short span of time. Economic growth continuously boosts Vietnamese citizens' quality of life. In 1994, Vietnam's poverty rate was at 90%. As of 2020, the poverty rate has lowered to 23%.
Global corporations also take part in developing Vietnam's coffee industry and helping farmers. Nestlé and Mondelez International have each invested more than $200 million in training farmers to distribute stable supplies of coffee. In 2015, Starbucks introduced Vietnam Da Lat, its first single-origin coffee from Vietnam, to its locations in more than 50 countries. Altogether, more than 21,000 farmers benefited from foreign investments in this booming industry.
Overall, coffee in Vietnam is a growing industry with many future possibilities. With the right policies and guidance, Vietnam's coffee industry can further improve its economy, provide income opportunities and increase standards of living for countless communities nationwide.
-Vanna Figueroa
Photo: flicker
The post How Coffee in Vietnam Can Battle Poverty appeared first on The Borgen Project.
Poverty Reduction: Farming Innovations in Japan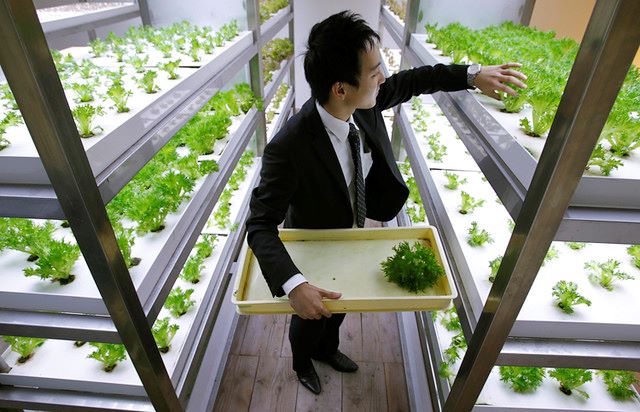 Agri-tech, a growing term used to describe Japan's digital farming technology has greatly advanced farming systems in the country in order to combat a potential water shortage by 2030. Both experienced and inexperienced farmers in Japan are using new technologies to limit the overuse of water and fertilizer, which in turn, is fighting food insecurity and poverty for the entire population. Professor Kiyoshi Ozawa, from Meiji University Kurokawa Field Science Center, summarizes the system, "instead of spraying a large amount of water with sprinklers or the like, fertigation uses narrow pipes to place drops of water and fertilizer at the roots of the growing crops." Farming innovations in Japan aim to reduce overall poverty in the country.
Farming Innovations in Japan
There are several innovations to take note of that have eased the labor intensity and climate impact of farming in Japan, such as heat-resistant varieties, delayed transplanting and specialized application of fertilizers, to combat both climate change and poverty in the face of a potentially grave water and food shortages.
Japan Today, an esteemed magazine based in Japan, also highlights the main goal of this growing agri-tech business as a collaboration between experts, advanced farmers and younger generations to create permanent, sustainable solutions and share knowledge about the most efficient farming techniques. "The valuable experience and techniques of veteran farmers could also be more accessible to newer farmers via the web," explains writer Allen Croft, "such as learning resources about harvesting times with databases and photos."
Factors Affecting Farming in Japan
Not only do these farming innovations in Japan help to alleviate poverty in vulnerable communities but they also fight climate change issues by directly limiting water and fertilizer usage and combatting overproduction. Climate change has caused tension in the agricultural world of Japan, as unpredictable water levels cause heightened food prices, specifically in terms of rice production. Several other factors are contributing to pressure on Japan's farming industry, including a decline in labor force participation as fewer young people are becoming farmers as well as Japan's reliance on food imports.
These new technological farming innovations in Japan are working to alleviate the problems outlined above and are bringing new uses to AI and loT technology in a way the farming communities have never seen before. Through data analysis and observation of traditional farming structures, farmers can maintain exact water measurements and maximize soil fertility in order to maintain consistent crop growth. The main goal of these digital solutions to farming in Japan is to create permanently sustainable agricultural practices for generations to come.
The Japan Social Development Fund
Specifically from the standpoint of poverty alleviation, the World Bank has implemented a project, the Japan Social Development Fund, that aids impoverished communities while focusing on education, adaptation to climate change, health and sanitation services as well as environmentally sustainable agricultural practices. While most vulnerable communities in Japan do not have access to the digital technology innovations that farmers have developed, a social shift towards awareness of water usage has allowed farmers with limited resources to implement certain practices.
The Future of Digital Agriculture
There are a variety of growing measures set in place to make the agriculture business in Japan more sustainable in the face of both climate change and poverty. Digital agriculture is growing at an immense rate and it is predicted that the global market, specifically for agricultural robots, will reach $73.9 billion by 2024, which will vastly change the structure of food production and the labor force. The scope of digital farming innovations in Japan is broad and could potentially create a basis for agriculture in other countries struggling with water and food shortages as well.
– Caroline Pierce
Photo: Flickr
The post Poverty Reduction: Farming Innovations in Japan appeared first on The Borgen Project.
Cash for Cows: Livestock Wealth in South Africa
Poverty in South Africa has historically been linked with the institution of the racial apartheid regime. The national government began to pass segregationist policies in 1948, with racial discrimination policies only officially dismantling in 1994 when South Africa became a democracy and Nelson Mandela stepped into power. Livestock Wealth is a company that introduced South Africa to "crowdfarming" as a means of supporting farmers and alleviating poverty in the country.
Apartheid and Poverty
Under the apartheid regime, the minority-white government passed policies aimed at keeping black South Africans, who made up a majority of the population, from having any meaningful participation in the economy. This left millions trapped in cycles of poverty and the residual effects of such discriminatory policies are still being contended with, in the effort to reduce poverty today.
Apartheid laws confined poor South Africans to rural regions and made the migration to urban areas difficult. The lack of opportunities and social mobility in rural areas made overcoming poverty a challenging task. The legacy of this limited mobility is still present today. South African provinces in rural areas have more households in chronic poverty compared to urban provinces. As of 2015, 25.2% of the population of urban areas lived below the upper-bound poverty line (UPBL), whereas 65.4% fell below the UBPL in rural areas. In order to reduce poverty, it is most important that rural communities receive support and investment.
Livestock Wealth
Livestock Wealth is a startup founded in 2015 by Ntuthuko Shezi which aims to provide investment for farmers in South Africa's rural areas. Livestock Wealth allows investors from anywhere in the world to effectively purchase from South African farmers four different livestock and crop options: a free-range ox, a pregnant cow, a connected garden or a macadamia-nut tree. When the cows or the crops are sold, both the farmer and the investor receive a share of the profit.
The investment provides liquidity to farmers for whom there is limited availability of short-term funds. Livestock Wealth is currently a credit provider with South Africa's National Credit Regulator and is registered with the Agricultural Produce Agents Council.
Livestock Wealth currently has 58 partner farmers all across the country and all cows are hormone-free and grass-fed. In recent years, its business has expanded to also provide meat for investors who join the "Farmers Club." There are currently more than 2,800 investors with Livestock Wealth and more than $4 million has been invested.
Alleviating Poverty in South Africa
Livestock Wealth is a representation of an initiative that has great potential to alleviate poverty in South Africa. South Africa's rural populations have a long history of exclusion from the economy and have struggled to reduce poverty for decades. Livestock Wealth provides cash investments for farmers and creates a market in which they can reliably trade. By doing so, the firm exemplifies an innovation within the South African economy, one which is helping to alleviate poverty and can inspire others to do the same.
– Haroun Siddiqui
Photo: Flickr
The post Cash for Cows: Livestock Wealth in South Africa appeared first on The Borgen Project.